(click refresh or F5 for site updates)

In case your wondering, has anybody used my tips and passed the

CCNA exam, YES! And you can too!

Your probably thinking that the Low Rent doesn't

have many links...and right you are, but you will

find link after link at any of these sites to keep

your mouse rolling for hours! But here is the

proverbial clue, go to Google.com, pretty much

the best search engine out there, query CCNA, and

other pertinent words and visit the sites.

Make a folder in your bookmarks for your favorite

CCNA sites, get organized : )

Visited over 14,000 times! Last updated November 19, 2001

(sorry about the pop-up banners)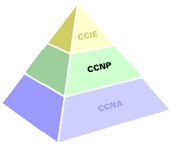 STUDY TIPS AND IDEAS
sign up for cramsessions.com, examcrams.com and many other ccna question of the day's, just do a google search.
cut and paste the previous days answer/explantion
into a word or text document, great study guide
(and while your at it try to answer the question!)
by some index cards and make your own flash cards
look at them at every opportunity
visit the forums at examnotes.net
do refer to the cisco exam outline, know the
objectives, not the braindumps
you can write down everything you can
remember at the exam site, practice
writing down command, osi layers,
ios command etc. chances are your
going to forget a few things come exam day.
set a timeline goal for each chapter or subject
discipline yourself to read and study!
last but not least, the test is hard, but you can and will
pass the test sooner than you think and for less money
if you follow my tips.